HMD solution
The ATIS2.0 HMD solution is the most accurate Head Tracking System (HTS) on the market for helicopter application.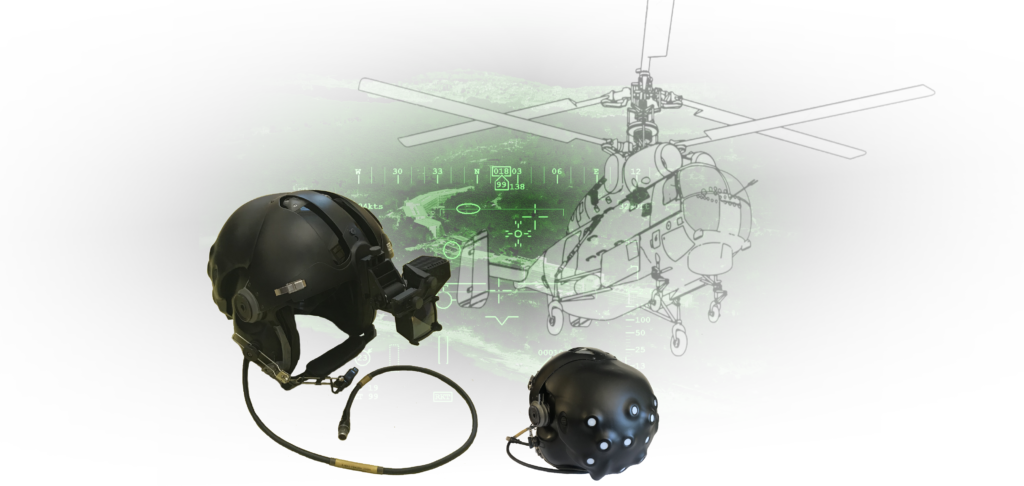 ---
---
Monocular symbology display
Field of view: 25°
Definition: 800 x 600
High brightness and contrast
Day & night symbology with standard NVG
Flight symbology
Customised symbology designed by pilots

---
Hybrid technology
The Head Tracking System (HTS) uses hybrid technology combining Optical measurement done by two cameras and GyroMEMs.
High precision cameras provide absolute optical localisation independantly with a precision up to 2 mrds.
The hybridised Line of sight calculation provide a high level of redundancy using 3 independent sources: 2 high precision cameras + 1 GyroMEMs
Using one fast inaccurate instrument (Gyros) and two accurate but slow sensors (Camera) to get fast & accurate head positions
---
Headgear
Easily customized to any basic helmet, a second skin is added including:
15 Leds + optics set to form the patterns
Power board to manage & protect leds
Intelligent boards with gyro providing:

Memory for gyros and patterns calibration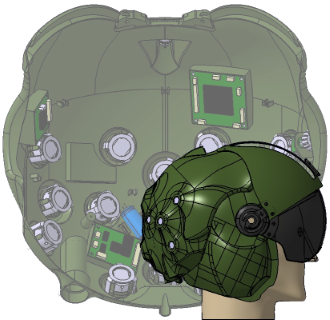 ---
Architecture
---
HMD Characteristics
Tracking
Motion Box
Cockpit dependent, typical values are: 500 x 500 x 700mm (XYZ) for optical sensors, whole cockpit using IMUs.
Attitude Box
Cockpit dependent, typical values are:
±110°, +60°/-30°, ±45° (Az,El,Ro) for optical sensors,
±180°, ±90°, ±90° (Az,El,Ro) using IMUs.
Accuracy
Up to 2 mrds, cockpit depedent.
Latency
0 using predictive mode (3ms predictive mode disabled)
Display
Field of view
25°
Definition
800 x 600 pixels
Resolution
0.5 mrd
Contrast
>1.2:1 @ 34000 cd/m²
Camera
Dimensions
60 x 55 x 105 mm
Weight
0.45 kg
Bore Sight
Dimensions
67 x 57 x 127 mm
Weight
0.50 kg
Helmet
Dimensions
size dependent
Weight
2.0 kg
Computer
Dimensions
280 x 160 x 370 mm
Weight
2.0 kg
Power
28 VDC (< 150 W)